Kungjung Tteokbokki.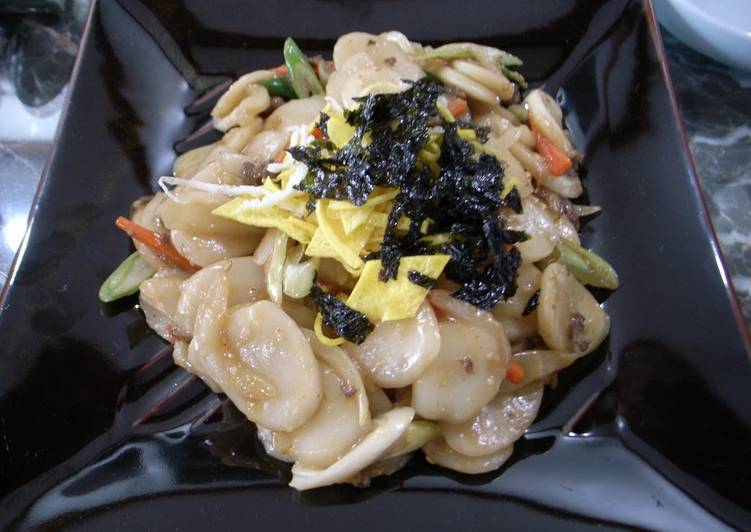 You can cook Kungjung Tteokbokki using 17 ingredients and 4 steps. Here is how you achieve it.
Ingredients of Kungjung Tteokbokki
Prepare 500 grams of Tteok (Korean mochi).
You need 100 grams of Thinly sliced beef.
It's 2 of Shiitake mushrooms.
It's 1/4 of Carrot.
You need 1/4 of Green peppers.
You need 1/2 of Onion.
Prepare 1/4 of Japanese leek.
Prepare 1 of Egg.
You need 1 of Nori seaweed.
It's 200 ml of Dashi stock.
It's of A.
You need 1 tbsp of Soy sauce.
It's 1 tsp of Sugar.
You need 100 ml of Water.
You need 1 tsp of Grated garlic.
It's 1 tsp of Sesame oil.
Prepare 1 of Ground sesame seeds.
Kungjung Tteokbokki instructions
Boil the tteok and drain. Finely chop the beef and vegetables. Separate the egg yolk from the egg white and make a finely shredded omelet..
Combine the beef and shiitake mushrooms with the "A" ingredients, and stir-fry. Add the tteok, carrot, green pepper, and onion, and continue stir-frying..
Add the dashi stock to Step 2 and cook over low heat while slowly stirring to combine. Add the leek and cook until the liquid evaporates. Turn off the heat and drizzle with sesame oil..
Transfer to a dish and top with the finely shredded omelet and nori..