Pasta in creamy-cheese sauce with broccoli 🥦. Simple broccoli and pasta is made with a rich and creamy Parmesan cheese sauce. This simple creamy broccoli pasta recipe makes an excellent everyday meal with a tossed salad, or serve it as a side dish with grilled meat, chicken, or fish and sliced tomatoes. This easy recipe features a roux made with oil and flour creating a wonderful creamy bechamel sauce that's perfect tossed with pasta and steamed broccoli.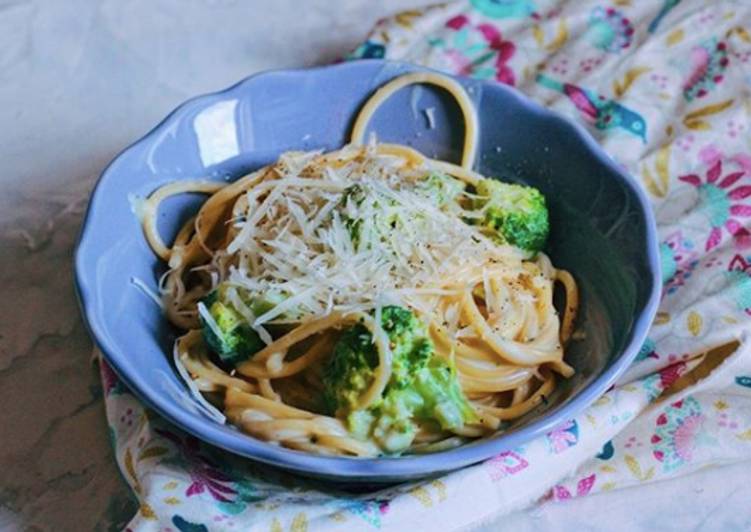 Mix everything and cook one more minute. Make classic cheese sauce from scratch! Get the written recipe (with American & Metric measures) here: Enjoy this creamy cheese sauce with pasta, macaroni. You can cook Pasta in creamy-cheese sauce with broccoli 🥦 using 4 ingredients and 5 steps. Here is how you achieve it.
Ingredients of Pasta in creamy-cheese sauce with broccoli 🥦
It's 200 grams of spaghetti.
Prepare 200 ml of cream.
It's 100 grams of broccoli.
You need 50 grams of cheese (Gouda, Parmesan).
Topping steamed broccoli with a good-for-you cheese sauce is an easy way to entice picky eaters to eat their veggies. Excellent for reluctant broccoli eaters My husband and I love broccoli on salads and in pasta but have a hard time enjoying it as a stand-alone side. This super fast skillet meal that combines a creamy pesto sauce, broccoli, and pasta is perfect for busy weeknights. This quick skillet combines the vibrant flavors of basil pesto with tangy cream cheese to make a rich sauce that smothers the pasta, chicken, and broccoli.
Pasta in creamy-cheese sauce with broccoli 🥦 step by step
Boil the water to cook spaghetti..
Cream bring to a boil, add gouda cheese, salt, pepper. Stirring for 5 minutes..
Add the sauce to the pasta..
Brocolli cook in boiling water for 3 minutes..
Add to pasta. When serving, sprinkle top with parmesan cheese..
I added more cream cheese and some colby jack cheese into the sauce seasoned the chicken with oregano salt and pepper and cooked it with garlic along with the onion. Basically it is an alfredo sauce with chicken poured over broccoli and pasta. Broccoli florets with a super-flavorful, ultra creamy cheese sauce. Kids love it.and grown-ups love it, too! Serve ramekins of cheese sauce with warm broccoli florets.