Peanut Butter/Chocolate Chip Cake Bars. These irresistibly gooey chocolate chip peanut butter bars taste like the lovechild of a chocolate chip cookie and a Reeses peanut butter cup! Of every dessert I've ever made, these peanut butter bars are still one of my go-to recipes for parties, because they're easy to transport, get rave reviews. These cake-like bars are packed with peanut butter and chocolate chips, and they are perfect for any occasion.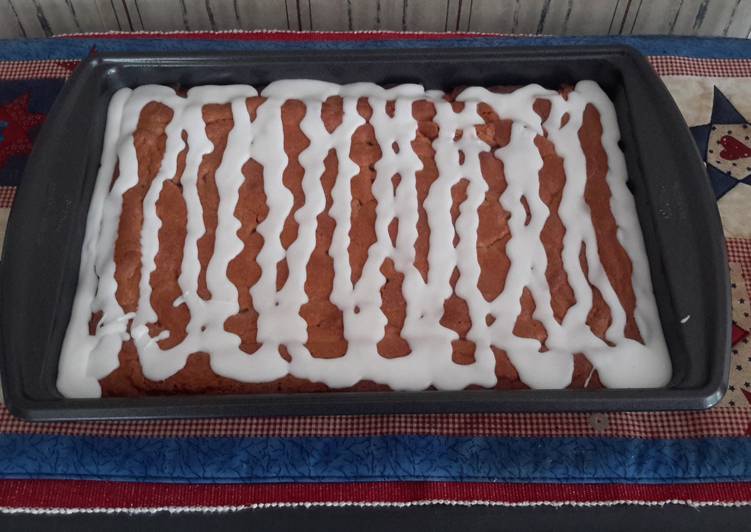 An oat cookie dough becomes top and bottom layers in this easy bar, filled with nuts and melted chocolate. I really, really, really wish these glorious peanut butter chocolate chip bar cookies weren't so easy…and so tasty. Then I wouldn't feel so bad about posting them the second week of January. You can cook Peanut Butter/Chocolate Chip Cake Bars using 10 ingredients and 7 steps. Here is how you achieve it.
Ingredients of Peanut Butter/Chocolate Chip Cake Bars
You need of softened butter.
Prepare of peanut butter.
You need of sugar.
You need of brown sugar.
You need of eggs.
Prepare of vanilla extract.
You need of all-purpose flour.
Prepare of baking powder.
You need of salt.
You need of chocolate chips.
My only recommendation is make sure not to overbake these peanut butter chocolate chip bars! A heaping scoop of peanut butter, a whole lotta chocolate chip cookie, and the cheesecake? You know those dessert bars that you make with full intentions to bring to chess club or soap making class, but then you find yourself washing out the empty pan and realizing that you never really shared them? Vegan oatmeal bars full of chocolate chips, peanut butter, oats, and raisins.
Peanut Butter/Chocolate Chip Cake Bars instructions
These are very basic ingredients that every cook usually has on hand. Put these together and you have a scrumptious dessert..
In large bowl, cream butter, peanut butter, sugar and brown sugar..
Add eggs, preferably one at a time; beating well after each addition. Add vanilla..
Add flour, baking powder and salt gradually to creamed mixture..
Stir in chocolate chips by hand..
Spread into greased 13×9 baking pan. Bake 45-50 minutes. 350° for light colored pans, 325° for glass or dark colored pans..
TA-DA…..a fun dessert with 2 fantastic ingredients….chocolate and peanut butter. Enjoy! A simple powdered sugar glaze makes them look a bit fancy! Promise I won't delete this one!!.
I kept my bars in the refrigerator and LOVED biting into them cold. The chilled chocolate chips and peanut butter combination is spot on and easily filled me up when I wanted a snack or something to bring to work. Melt some chocolate & peanut butter then drizzle or spread it on top and you're done. The longest (and most challenging) part of this no-bake oatmeal bars recipe That girl lives for dessert, especially, birthday cake. She starts brainstorming ideas for her cake in July…and her birthday is in January. by Alyssa Rimmer.