Delicious Cheese and Salmon Chirashizushi.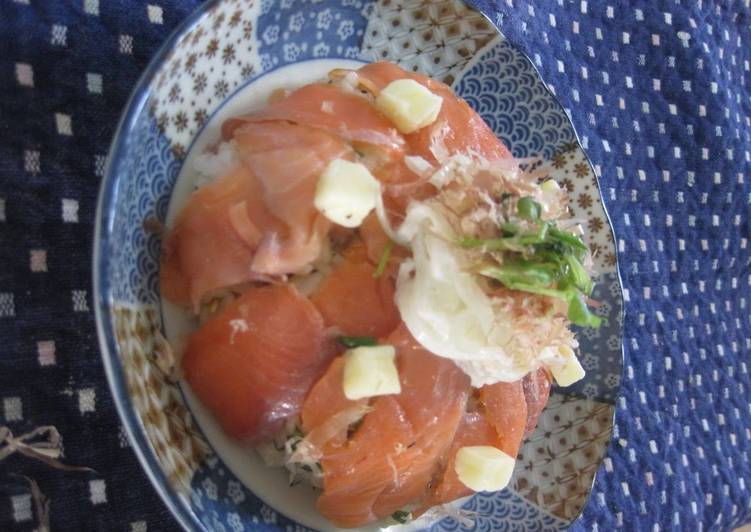 You can cook Delicious Cheese and Salmon Chirashizushi using 8 ingredients and 8 steps. Here is how you cook that.
Ingredients of Delicious Cheese and Salmon Chirashizushi
Prepare 2 of heaping bowlfulls ● Cooked rice.
You need 1 1/2 tbsp of ● Ponzu.
It's 3 of pieces ● Processed cheese (individually wrapped).
It's 5 of leaves ● Shiso leaves.
It's 80 grams of Smoked salmon.
It's 1/8 of Onion (optional).
It's 1 of Mayonnaise (optional).
You need 1 of packet Bonito flakes (optional).
Delicious Cheese and Salmon Chirashizushi instructions
Slice the onion very thinly and put into a bowl of water. Squeeze out well and mix with mayonnaise. This will be used as a topping and is optional..
Cut each piece of cheese into 12 pieces (about 8 mm dice). Finely chop the shiso leaves. Reserve a bit of each to use as topping..
Line a deep plate (such as a soup plate) with plastic wrap, and line with half the amount of smoked salmon (1 serving)..
Mix the ponzu sauce with hot rice, then add the non-reserved cheese and shiso leaves..
Mound half the mixed rice (1 serving) on top of the salmon in the plate..
Wrap with the plastic wrap and press lightly to form a round shape..
Open the plastic wrap and invert onto a plate. Top with the onion and mayonnaise, bonito flakes and reserved shiso leaves, then scatter the reserved cheese around the perimeter..
Make another portion just like the first and it's done..