Crab Bisque.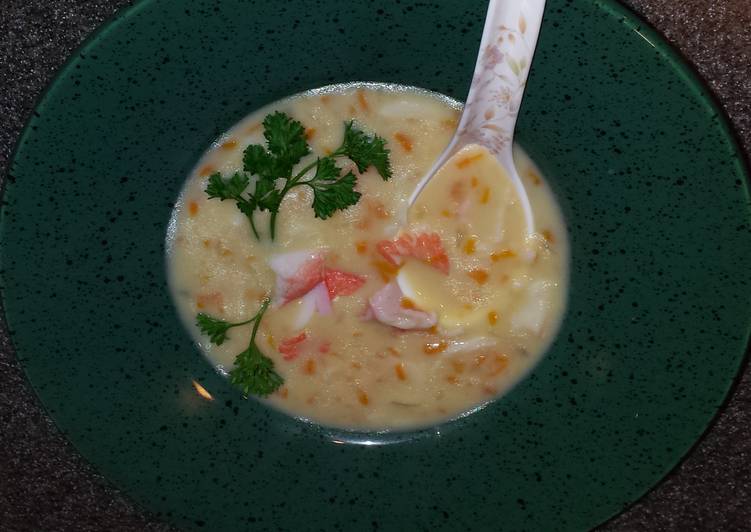 You can have Crab Bisque using 13 ingredients and 7 steps. Here is how you achieve it.
Ingredients of Crab Bisque
You need 1 cup of onion, minced.
You need 1 cup of carrot, minced.
Prepare 21 oz of chicken broth (2 X 10.5 ounce cans).
Prepare 4 tbsp of flour.
You need 6 tbsp of butter (can omit 2 Tablespoons in step 1, if using cooking spray).
Prepare 1 cup of heavy cream (see note step 6).
You need 1/2 cup of cooking sherry.
It's 1 tbsp of lemon juice.
It's 1 tsp of Worcestershire sauce.
Prepare 1/4 tsp of cayenne pepper, to taste.
Prepare 1 of salt and white pepper, to taste.
You need 3/4 cup of shredded imitation crab meat.
Prepare 1 of optional garnishes – chives, parsley, to your taste.
Crab Bisque instructions
Saute onion and carrot in 2 Tablespoons of butter until soft. Set aside. (Can be done with cooking spray to reduce fat.).
In a large saucepan, melt 4 Tablespoons of butter and add flour, whisking constantly over medium heat until roux becomes light brown (about 3-5 minutes). Be careful not to burn!.
Slowly add chicken broth, while whisking constantly..
Add onions and carrots, cover, and simmer for 30 minutes..
Add cream, sherry, lemon juice, Worcestershire sauce, cayenne pepper, and salt to taste. Simmer an additional 10 minutes. Add shredded imitation crab..
A note about the heavy cream. I only used half of the cream and added 1% milk for the other half cup. Always trying to lower fat content without ruining the recipe…it still tasted great!!.
Garnish with chives or parsley if desired..