Natto & Mizuna Salad. Nattō (納豆) is a traditional Japanese food made from soybeans that have been fermented with Bacillus subtilis var. natto. It is often served as a breakfast food. Natto is Iron and Copper rich food which support for Anti-inflammatory, Source of Vitamin K, Gastrointestinal health, Probiotics and Strengthen immunity.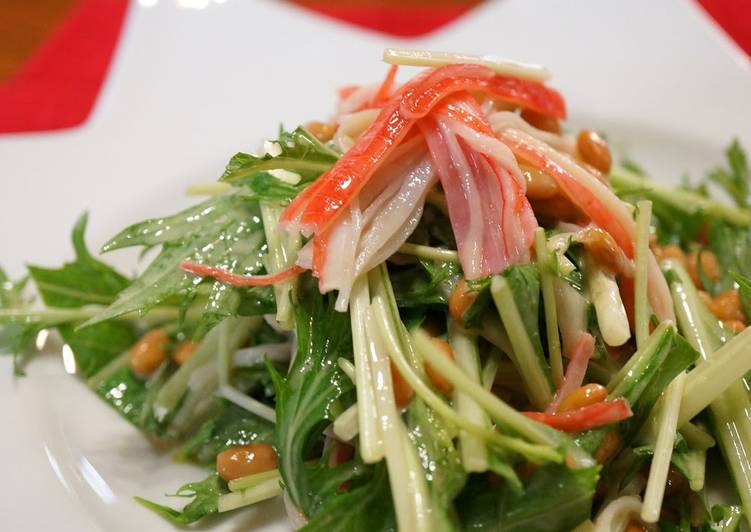 It's a much-loved, protein-packed Japanese food standby. It's also made of slimy, stinky soybeans. By popular request, this week Reactions is all about the. You can cook Natto & Mizuna Salad using 7 ingredients and 4 steps. Here is how you cook that.
Ingredients of Natto & Mizuna Salad
Prepare 1 of bundle Mizuna greens.
You need 1 of pack Natto.
It's 3 of Imitation crab sticks.
Prepare 1 tbsp of *Ponzu.
You need 1 of +1 cm *Japanese mustard (tubed).
You need 1/2 tbsp of *Mayonnaise.
Prepare 1 of ✿Sesame seeds, shredded nori, thinly sliced Japanese leek, etc..
Nattō is made from soybeans, typically nattō soybeans. In nattō-making facilities, these processing steps have to be done while avoiding incidents in which soybeans are touched by workers. There's a lot of controversy around soy and soy-based products like natto. With all the contradictory claims out there from researchers and health experts alike.
Natto & Mizuna Salad step by step
Wash the mizuna and cut into bite-sized pieces. Mix the natto with the included sauce. Combine the * ingredients..
Tear the imitation crab sticks apart. Refer to"How to Quickly Shred Imitation Crab Sticks" for details..
Combine everything together..
And it's already done. Optionally, add sesame seeds or nori as a topping..
Like Marmite for the Brits, natto is a polarizing dish in Japan. The Japanese either love or hate these fetid fermented soybeans, but all of them are shocked when they see foreigners eating the stringy stuff. Natto is a traditional Japanese food of fermented soybeans. Natto soybeans are steam-cooked and then fermented with a healthy bacteria known as Bacillus subtilis. Natto is fermented soy beans and is often eaten for breakfast in Japan.