Tuna Mac-and-Cheese. PERFECTION! lol Just between us though. I did swap out the mushrooms for peas just because I was in the mood for peas. Prepare macaroni and cheese according to package directions.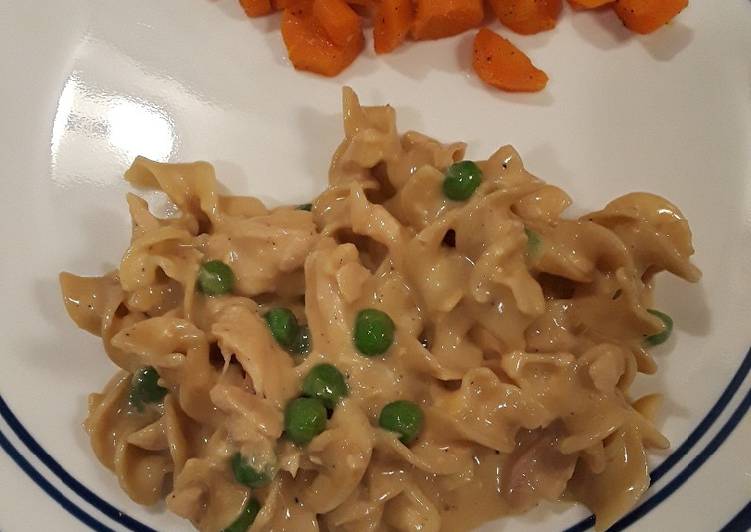 Now this doesn't have to come out of a box, you can make it. Perfect for weeknight dinners, game day or anytime you have a comfort food craving! A quick and easy kid-friendly pasta recipe, this Stovetop Tuna Mac and Cheese is sure to be a family favorite weeknight dinner! You can have Tuna Mac-and-Cheese using 11 ingredients and 3 steps. Here is how you cook it.
Ingredients of Tuna Mac-and-Cheese
It's 2 cups of whole wheat egg noodles.
Prepare 2 tbsp. of unsalted butter.
You need 1/4 of yellow onion, finely diced.
You need 3 cloves of garlic, minced.
You need 2 tbsp. of all purpose flour.
You need 3/4 cup of unsalted chicken broth.
Prepare 3/4 cup of milk.
You need 1/4 tsp. of each salt, pepper.
It's 3/4 cup of frozen peas.
You need 3/4 cup of freshly shredded cheese of choice.
Prepare 1 can (5 oz.) of unsalted, solid albacore tuna, drained.
Just when mac and cheese couldn't get any better, here's a version with tuna, broccoli and the crunchiest topping ever. Bugles™ corn chips are the secret to the crunch in this easy macaroni dish! I have an unrivaled passion for mac and cheese. Mac and cheese out of a box isn't normally considered a nutritional standout, but when you gussy up a homemade microwave version with whole grain pasta, protein-packed tuna, and an assortment of vegetables, you have yourself a dish that won't leave you second-guessing each bite.
Tuna Mac-and-Cheese instructions
Cook the egg noodles in a large pot of salted boiling water according to package directions. Once it's done, drain it and toss it lightly with olive oil to prevent it from sticking. Set it aside. In the same pot, heat the butter over medium heat. Once it's melted, add the onion and cook until it's translucent, just about 3-4 minutes. Stir in the garlic and cook just until fragrant..
Stir in the flour and cook, stirring fairly constantly for a couple more minutes. Then slowly add in the broth and the milk while stirring to fully incorporate everything smoothly. Increase the heat to med-high. Let it come up to a low boil..
Once it's bubbling, lower the heat back down and let it simmer until it's thickened enough to coat the back of a spoon. Then stir in the salt, pepper and peas. Slightly break up the tuna with a fork into large chunks and stir that in as well. Remove from the heat and stir in the cheese until it's melted in, then serve..
This dinner idea gets a quick start with the blue box Mac n' Cheese – ya know the stuff that most kids love! Add some canned tuna, peas and a little extra Cheddar cheese and you've got yourself a kid-approved meal. Basically, Mac n' Cheese + Tuna. My family has always made it, some I never thought it was strange. In college however, I tell people about this and someone said "I hate the notion you would mix Fish and Cheese." Try this Tuna Mac and Cheese recipe, or contribute your own.