Ray's'Turkey & Potatoe Flautas.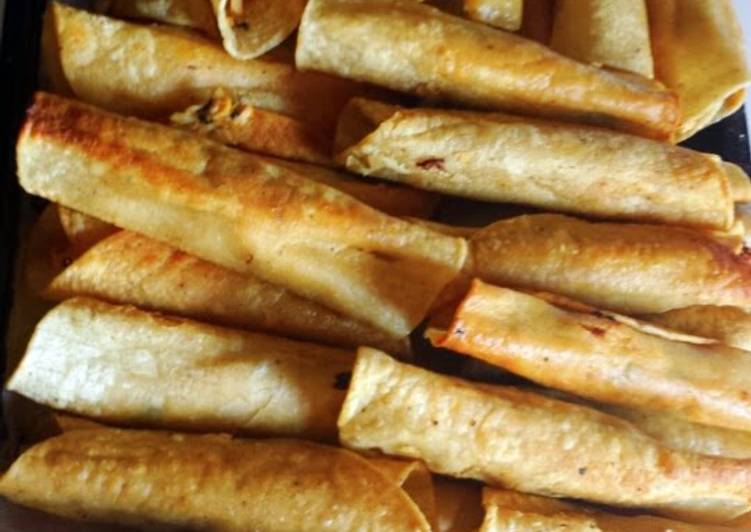 You can cook Ray's'Turkey & Potatoe Flautas using 15 ingredients and 4 steps. Here is how you achieve that.
Ingredients of Ray's'Turkey & Potatoe Flautas
It's of filling.
It's 3 of baked potatoes.
It's 1 of diced roma tomato.
You need 1/2 of diced purple onion.
You need 1/2 bunch of chopped cilantro.
It's 1/2 tsp of minced garlic.
You need 1/2 tsp of Garlic salt.
Prepare 1/3 tsp of Chicken bullion.
It's 1 pinch of cumin.
It's 1 of salt & pepper to taste.
You need 2 tbsp of cooking oil.
It's 1 of Left over shredded precooked turkey.
You need 1/3 cup of water.
You need 1 of corn tortillas.
Prepare 1 of cooking oil.
Ray's'Turkey & Potatoe Flautas step by step
Start by shredding turkey and setting aside. Cook potatoes in microwave till soft. Let cool and cut into strips set aside..
In a large skillet add in 2tbspn cooking oil, now add in garlic diced tomatoes, onions and cilantro, cook about 1-2 minutes add in shredded turkey and seasonings along with water. Cook a few minutes taste for seasonings set aside..
Now add cooking oil to pan let heat on medium low. Add corn tortillas to microwave giving them just about 1-2 minutes each side to soften them enough to roll flautas..
Add a slice of potatoe and turkey mixture to tortilla. Roll tightly and fry till golden. Drain on paper towel. Serve with sour cream, guacamole salsa etc..